Bells on Danforth will be riding the Danforth from Logan to Danforth Road and then circle back to Denton and Pharmacy. Our starting point once again is Withrow Park: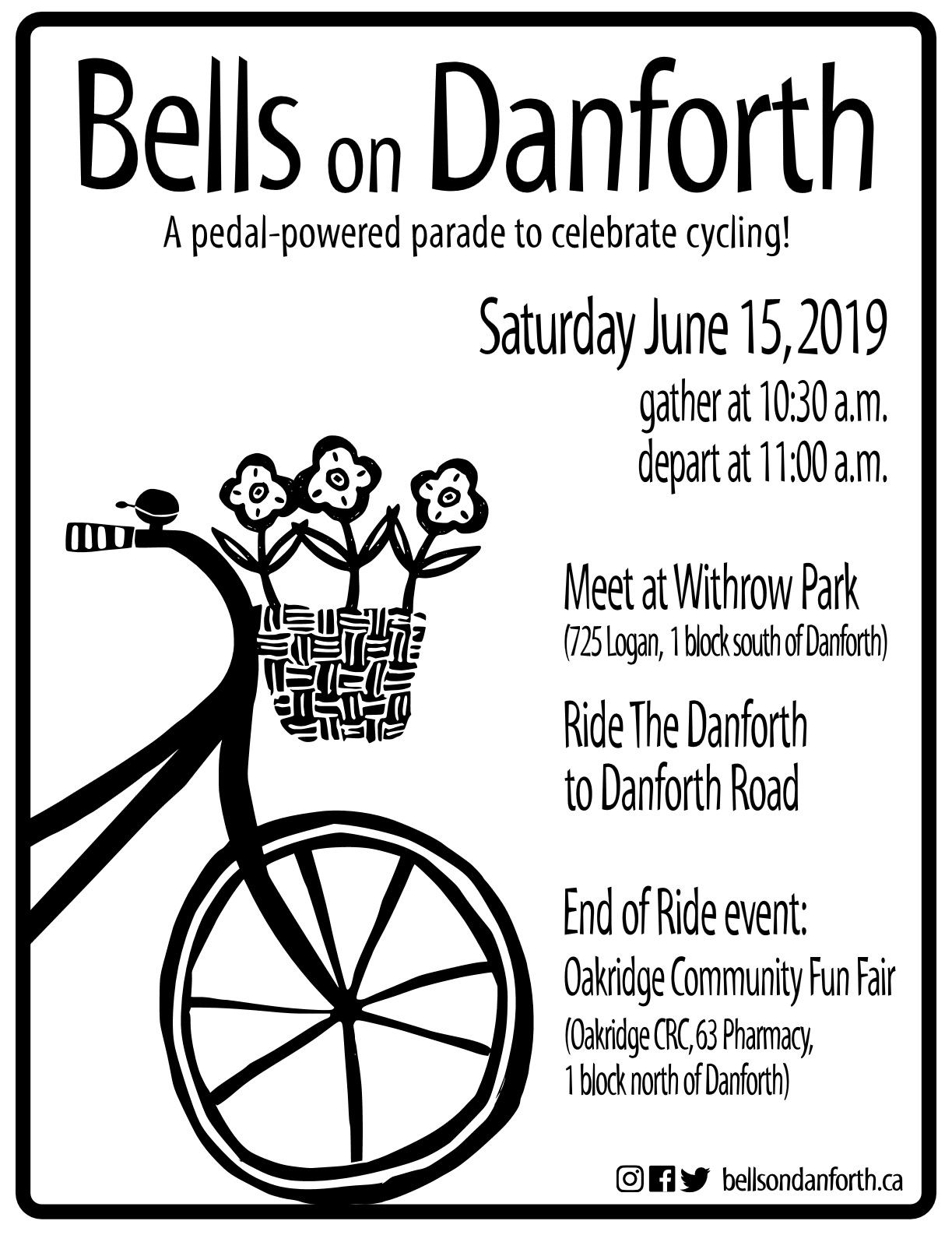 Bells on Danforth 2019
When
Gather at 10:30 a.m. – the ride begins at 11:00 a.m.
Start
Withrow Park (between Logan and Carlaw, one block south of Danforth – gather on the west side near Logan & Wolfrey).

Pre-ride
Welcome!
Finish
We will ride the Danforth to Danforth Rd and then circle back on quiet residential streets to the Oakridge Community Recreation Centre at Pharmacy and Denton Avenue.
End of Ride Event
This years' End of Ride event has been organized by Toronto East Cyclists and partnering groups – it's called "Safe Streets for Scarborough" (
Facebook Event
) and features an interactive mock-up of a city street plus information and resource kiosks on how we can make our near-suburb streets safer and less stressful for pedestrians, cyclists and drivers.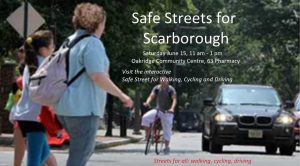 This happening features a life-sized interactive model of a Safe Street for walking, cycling and driving – plus information and resources from the following partner participants:
Bells on Danforth
Bike Law Canada
Bike to School Project
Cycle Toronto
The Centre for Active Transportation
Doctors for Safe Cycling
Friends and Families for Safe Streets
Scarborough Cycles
Toronto East Cyclists
8-80 Cities
Walk Toronto
This event is running in conjunction with the already-in-progress "Oakridge CRC Fun Fair" which features children's games, bouncy castles, a used goods Bazaar, an Arts Market plus food and drink kiosks.
There are also plenty of bike lock-up locations, water and public washrooms available at the Oakridge Community Recreation Centre.
Route
We'll be following the same route as last year, riding east along Danforth Avenue from Logan to Danforth Road and then circling back along neighbourhood streets to 63 Pharmacy Ave (at Denton – 1 block north of Danforth):
Follow us online!
This year, you'll be able to follow the ride on Glympse (IOS, Android), so you'll know exactly where we are if you plan to join in along the way.
Getting Back
An escorted return ride west along Danforth Avenue to Logan Avenue. More details will be announced before the start of the ride and at Oakridge CRC. Riders may leave the main group with a ding and a wave as they approach their destinations. If you don't want to take the escorted ride back, organizers will announce from the stage how to get to Victoria Park subway station or the Taylor Creek/Don Valley trail system via quiet residential streets (as well, if you need directions ask any Bells on Danforth organizer). If you need more information send us an email.