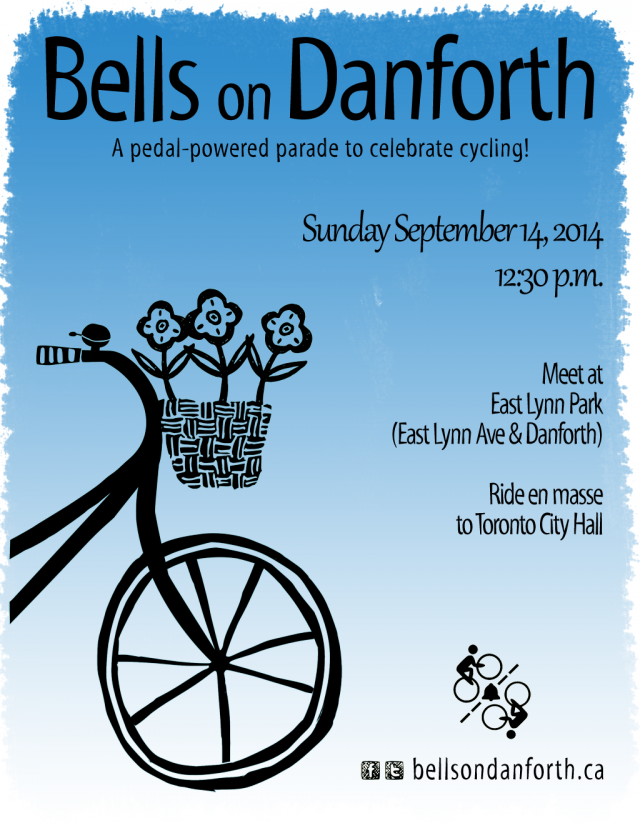 This year we're starting at East Lynn Park (on the south side of Danforth Ave, one block west of Woodbine Ave) and riding to City Hall, where we'll be joining the BIKESTOCK festivities. You can join us anywhere along the route:
Bells on Danforth 2014
When: 12:30 p.m. on Sunday, September 14, 2014
Start: East Lynn Park (Danforth Ave, one block west of Woodbine Ave)
Finish: BIKESTOCK at Toronto City Hall (Bay St. and Queen St.)
Getting Back
A escorted return ride to the east end will be available after the main ride ends. Details will be announced at East Lynn Park before we get underway. If you need more information, ask one of the ride marshals or send us an email.
Bonus Bells Ride!
Once again this year, a group led by TO35Cycles and Ward36Cyclists will be starting at the corner of Danforth & Danforth in Scarborough, riding to join the main group at East Lynn Park. Please see the TO35Cycles site for more information about extending your Bells ride this year.
Arrive Early for the Danforth East Arts Fair
The Danforth East Arts Fair is being held this weekend, September 13-14, 2014, in East Lynn Park. If you come to the park early on Sunday, you'll have time to browse the creations of the dozens of artists attending this event and maybe find that perfect something to buy.