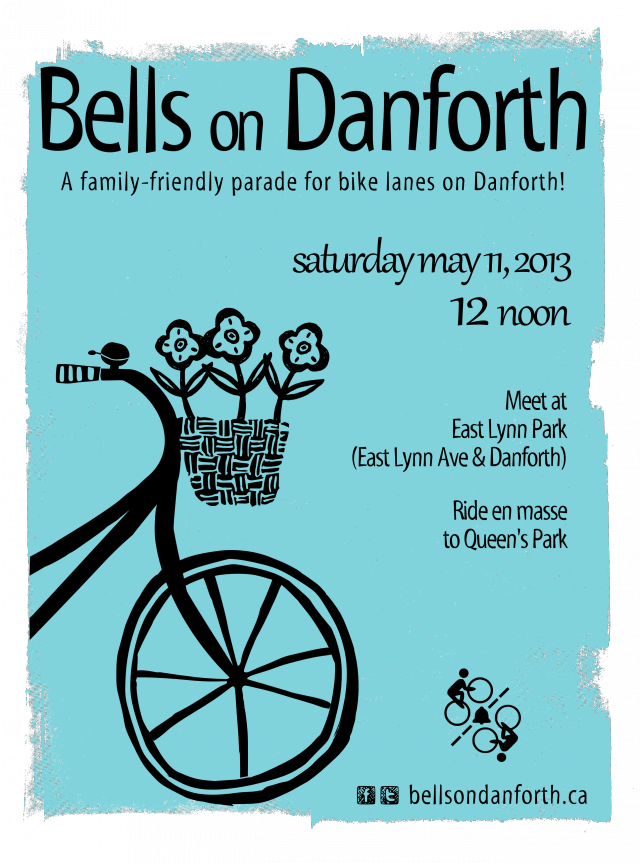 Join us at East Lynn Park this Saturday, May 11, for a pedal-powered parade to celebrate cycling on Danforth. Gather at noon for the ride along Danforth to Queen's Park, where we'll meet Bells on Bloor, Bells on Yonge, and the Walk and Roll Caravan at the Cycle and Sole rally.
If you're coming from farther east or just want a longer ride, join the group led by TO35Cycles and Ward 36 Cyclists that's meeting at 11:00 a.m. at the Crossroads of the Danforth (Danforth Ave. and Danforth Rd.).
Here are some questions that we've been asked about this year's ride:
1) Is it safe for children?
Yes! Bells on Danforth is a family event and we encourage parents to ride with their children of all ages. We will have a police escort and several additional ride marshals to keep riders together in one big group and eliminate conflicts with other traffic.
2) How fast does the ride go?
The group travels at a leisurely pace and you'll almost certainly have no difficulty keeping up. Young children who aren't able to ride longer distances at a slow but steady pace will enjoy the ride in a bike seat or trailer, or on a trail-a-bike.
3) I can't ride the entire distance. Can I join along the way or drop out early?
Absolutely. We're happy to have you along for as much of the route as you and your family wish to ride. If you want to join us along the way, just wait for the group on the north side of Danforth anywhere west of East Lynn Park. We don't know exactly when we'll be coming along, so your best bet is to be in position at noon. You won't be able to miss us.
If you want to drop out of the ride early, just inform the ride marshals at the end of the group that you're dropping out, then safely pull over to the curb at a convenient spot. If you don't tell the marshals why you're stopping, they'll stop with you.
4) How do I get back home from Queen's Park after the ride?
You can join one of the organized rides that will return to the east end. We'll follow a different route back home and won't have a police escort, but marshals will lead the group back to East Lynn Park. If your home is along the way, just drop out of the group with a wave when you turn into your neighbourhood.
You can also take your bike onto the TTC for a subway ride back home. We recommend cycling up to either St. George or Bay station from Queen's Park.
5) Is it really fun?

Come to East Lynn Park at noon on Saturday and find out!